Having recently got back into kayak fishing after taking a break for a few years I purchased a Viking profish reload, having used it for a few months I found that it is a great kayak, way better than the fish and dive and marauder I had previously. However now having passed 52 and not having the flexibility and muscle tone I once had the traditional kayak seat gets really uncomfortable for me after about 5 hours, my legs and butt really start to ache.
As the trend seems to be making kayaks that still handle well but with more comfortable seating and natural seating position I thought it would be a good idea to get one for longer days on the water. Picked it up this morning and am initially very impressed with Jacksons attention to detail, build quality and amount of extras that come with the yak.
My plan is to keep the Viking for shorter trips and for trying to get into deep sea fishing off the east coast Looking into some meetup groups there to join and do trips with, It should handle the surf well and is fast enough to fight the wind and current. The bigrig will be my Yak for longer days on the water where I don't expect to cover great distances and for trying to do more stand up sight fishing locally or in the indian river and keys. I also love night fishing and this yak will be ideal for that once I figure out the power for the dragonfly, baitwell and lights. A battery, pos/neg bussbars and switch bank etc.
In advance I purchased a duplicate mount and transducer for my dragonfly which I will install shortly so I can switch the head unit from one yak to the other.
Taking it out tomorrow for it's initial tryout and to see if my 240cm paddle will work for both yaks .
I also built a rolling rack for storing the yaks and moving then around with no pressure points.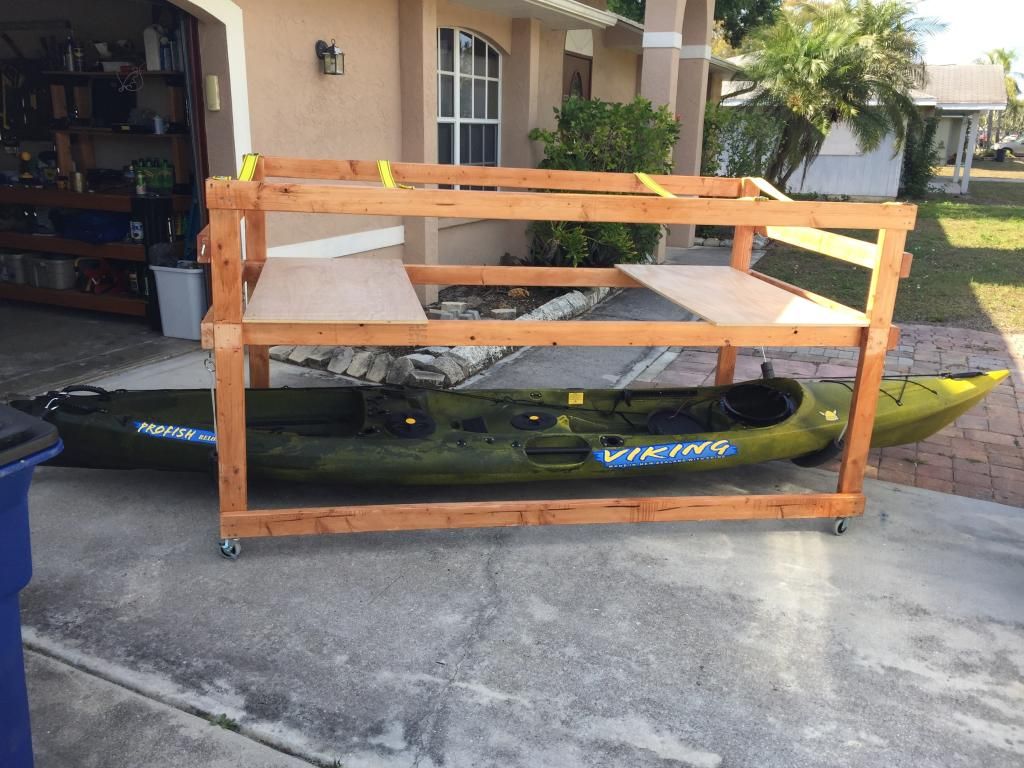 I will post my initial impressions of the big rig after trying it out tomorrow.